Brand Assets
Explore these guidelines when promoting Everscale in marketing communications, including advertising, articles, websites, and printed promotions.

Logotypes
We have various styles for the Everscale logo. Make sure the one you choose creates the right contrast against the logo background.
Download all logotypes
Logotype

Sign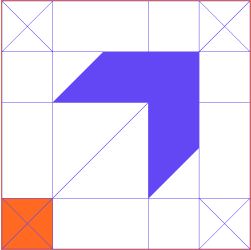 Safe zone
A certain amount of space is needed around the logomark to prevent it from becoming cluttered by surrounding artwork, images, or the edge of a page.

Don't add shadows behind the logo

Don't add outlines to the logo

Don't stretch the logo

Don't apply logo in low resolution

Don't use logo as a frame for imagery

Don't place on low contrast colors
Logo don'ts
Here are some things you should never do with the Everscale logomark.
Color palette
The color palette stretches from light yellow to dark blue. It goes from fiery orange to galactic highway, with multiple accent colors to better represent technology, speed and openness to innovation.
Additionally gradient: Dark blue
Primary gradient: Bright
Color gradient
Gradients should be used only as a background for mini-posts and covers. Using this method makes a design clear, readable, and pleasing to the eye.
Guide for SMM posts
Here you can find our guidelines on color and structure for our SMM posts
Get SMM guide